GROW YOUR OWN TOBACCO!
Leaf Only Now Offers Tobacco Seeds.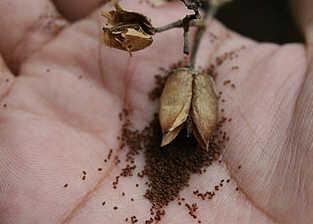 Our Current Tobacco Seed Collection
has 15 of the most popular varieties we could find. We have access to other seeds, and will continue to expand this section over time, but this is a great start! Grow all of your favorites! Cigarette tobacco seeds, cigar tobacco seeds, fronto tobacco seeds, and more!
Please Note:
By trade, we are tobacco procurers. Although we work closely with farmers, we do not actually grow the tobacco we sell on our website. For questions about how to grow, cure, or ferment tobacco, we will share as much knowledge as possible, but our hands-on experience is limited.
25-50 Seeds Per Pack (Usually more)
80% Minimum Germination Rate

Black Sea Samsun Turkish
This Turkish tobacco is among the best money can buy. Originating in the Samsun region of Turkey, along the Black Sea, this tobacco is renowned for its unique rich flavor. This plant has smaller leaves than other strains, but a very distinctive aroma. An excellent Turkish blend or unique by itself.

$2.99



Brown Leaf Dark Air / Fire
This variety originated in Kentucky. It has relatively large leaves of medium body that cures out a deep, rich brown color. Can be fire cured or air cured depending on application.

$2.99



Burley
A fine commercial strain that is used for its hardiness and smooth flavor. A must for cigarette making. This plant grows fast and is a high yield producer.

$2.99



Connecticut Broadleaf
Besides shade leaf, Connecticut offers wonderful dark cigar leaves as well. CT broadleaf makes for wonderful wrapper, binder, and filler, and produces a soft chocolatey brown leaf after curing.

$2.99



Connecticut Shade Leaf
The Connecticut Valley is a major source of some of the world's finest wrapper leaves. This golden colored wrapper tobacco is highly regarded and praised by many cigar makers and connoisseurs. Connecticut Shade originated from a strain of Cuban seed, is shade-grown under huge tents of cheesecloth or greenhouse shade netting to protect the delicate leaf.

$2.99



Florida Sumatra
A large plant producing a bountiful harvest of blemish free tobacco leaves. Air cured leaves produces an excellent smooth flavored cigar and makes excellent wrapper, filler and binder. It grows to about 6 feet in height with leaves averaging 24 inches long and 15 inches wide and matures early at 55 days.

$2.99



Golden Seal Special Burley
An up right variety with more leaves than most varieties. Is taller than most varieties on the market and cures a golden color. Great for cigarettes, and one of the largest producers.

$2.99



Greenwood Dark Air / Fire
Medium, smooth leaf, cures to a dark brown with fine chewing tobacco flavor and high yields. Can be fire cured or air cured depending on application.

$2.99



Havana
This is a wonderful tobacco leaf for cigars, making a good filler and binder that imparts a deep, rich flavors to cigars. Leaves are darker, long and narrow, and offer a good high yield harvest.

$2.99



Indian Rustica
Extremely Potent half hardy annual that grows to about 3 ft. and is cultivated worldwide for smoking and nicotine production, but also works great for pesticides. This plant has many green to yellow flowers that remain open during the day and be raised as far north as Maine. It is so potent that it has been used as an arrow poison in Mexico!

$2.99



Pennsylvania Broadleaf
This is a premium cigar tobacco having beautiful dark colored, long leaves. Works for filler, binder, and if cured properly can be used as a wrapper. Has a rich, deep flavor that blends well with any tobacco.

$2.99



Sm Black Mammoth
This is a deep dark tobacco that gives good weight and supports itself very well. This is a tobacco prized by specialty growers because it provides a great wrapper tobacco or a premium snuff tobacco when ripe. A good tobacco for beginners learning to roll their own cigars or for first time snuff makers.

$2.99



Tennessee Dark Air Cured
A fast growing, high yielding tobacco with large leaves that cure to a deep red color, excellent cigarette and pipe blend, but suitable for other applications as well.

$2.99



Virginia Brightleaf
A very mild tobacco leaf for cigarettes and pipes. Cures to a light golden color. Grows to 5-6 feet tall with a heavy yield.

$2.99



Virginia Gold
A very light gold leaf when curing, it makes an excellent smoking tobacco. Grows to 5 ft. tall with a heavy yield.

$2.99